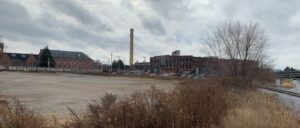 A new developer is getting a crack at bringing life to a former industrial tract in York.
At a meeting last week, the Redevelopment Authority of the City of York awarded a six-month option on a 4.4-acre site in the Northwest Triangle to Statewide Partners, a regional firm with offices in Harrisburg and York.
Preliminary sketches from Statewide show the site could hold six five-story buildings and an eight-story building, according to a statement from Blanda Nace, executive director of the redevelopment authority.
All told, the buildings would contain roughly 300 apartments, 70,000 square feet of retail and commercial space, and 50,000 square feet of office and flex space, according to Nace.
"We're just excited to get started," said Josh Juffe, a principal with Statewide who added that it was too early to discuss any details beyond those shared by Nace.
What's next: The option gives Statewide time to conduct due diligence on the site, which is bounded to the north and west by the Codorus Creek.
The results would indicate whether and how to proceed.
Statewide is coming into the area after plans by another developer failed to materialize.
Those plans came from a local entrepreneur named John McElligott, who had hoped to create a high-tech, robotics-focused campus called The York Plan 2.0 Innovation District.
The background: York officials decided last fall to look for a new developer for the site, the final portion of the larger Northwest Triangle tract.
Earlier projects in the area include the baseball stadium now known as PeoplesBank Park, a new building for the York Academy Regional Charter School and conversion to offices of a former industrial building at 320 N. George St.
Though mostly empty, the remaining tract is home to one completed project: The Keystone Color Works apartment building at 175 W. Gay Ave.
In addition to local tax incentives for development, the Northwest Triangle is in a federally designated Opportunity Zone, a federal tax-incentive program.
— by Joel Berg, editor of biznewsPA