A developer is filling in some of the details on its plans to transform the Ronald Reagan Federal Building in Harrisburg into "The Federal" — a 200-unit luxury apartment building crowned with a rooftop bar and a pair of restaurants.
Developer Global Ocean Investments had already unveiled a goal of remaking the 250,000 square-foot building it bought earlier this year for $10.01 million.
Now, the firm headed by entrepreneur Justin Etzin has unveiled what the building would look like if its plans are approved and financed.
The renderings show a split-level, 8,000 square-foot, glass-enclosed restaurant and bar perched on the roof of the 11-story building.
Other renderings show apartment interiors and a fitness center.


What's the budget: Roughly $35 million, according to Global Ocean spokesperson Charlotte Hawkes.
That includes the bar/restaurants, apartments, the fitness center and a bevy of other amenities: a movie theater, a nail and hair salon, and a concierge lounge.
The rooftop hospitality space would include three venues: a bar, a luxury Italian restaurant and an American steak house.
The apartments would be geared toward young professionals with rents set at market rates, according to Global Ocean.
"We have taken architecturally designed loft and Penthouse apartment living to a whole new level," Etzin said in a statement. "Residences will include high-end finishings with eat-in kitchens, large master suites and dens that can be utilized as walk-in wardrobes or home offices. The floor to ceiling windows will allow natural light to pour into the units and with incredible views of the Pennsylvania State Capitol Complex and Susquehanna River."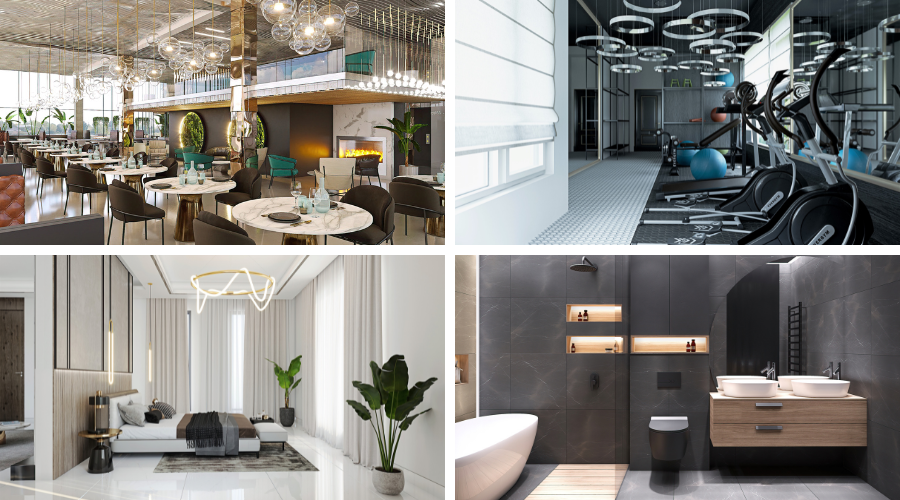 Isn't the building for sale: Yes.
The roughly 250,000 square-foot office is listed on the real estate site Loopnet at a price of $22 million.
In a previous statement, Hawkes noted that the firm routinely lists its properties for sale.
"Quite often our projects attract other investors who partner with us or buy out the project," she said in February.
That's what happened to a similar Global Ocean project involving a federal building in Columbia, South Carolina.

What's Global Ocean: An international real estate development company specializing in what it describes as "boutique development projects" — which includes conversions of old federal buildings.

What's next: Global Ocean expects to begin construction after federal workers vacate the building in early 2023.
The firm plans to begin seeking the necessary approvals this summer, according to Hawkes.
If all goes as planned, the project could be completed by 2024 or 2025.

The trend: Developers around the region have been working to convert office space to apartments in the wake of reduced post-pandemic demand for office space.
The government auctioned off its Harrisburg property because it is erecting a new building in Midtown Harrisburg,