Burkentine Builders is gearing up to finish a mixed-use project that will bring another brewery to southern York County.
The Hanover-based builder held a topping-off ceremony April 25 for the roughly $5 million project, which is bringing two buildings totaling 10,000 square feet of commercial space and 20 apartments to the borough of New Freedom.
Construction is expected to wrap up this fall, but one commercial tenant is already lined up. Vortex Brewing, a startup brewery, will occupy the first floor of one of the buildings.
The 5,000 square-foot space will be the first for Vortex, said brewery co-owner Richard Foard.
"We looked at a lot of locations," he said. "We just fell in love with New Freedom."

Where is this happening: The buildings are going up on the site of a former American Insulator factory at 1 E. Franklin St. in New Freedom, near the Heritage Rail Trail County Park.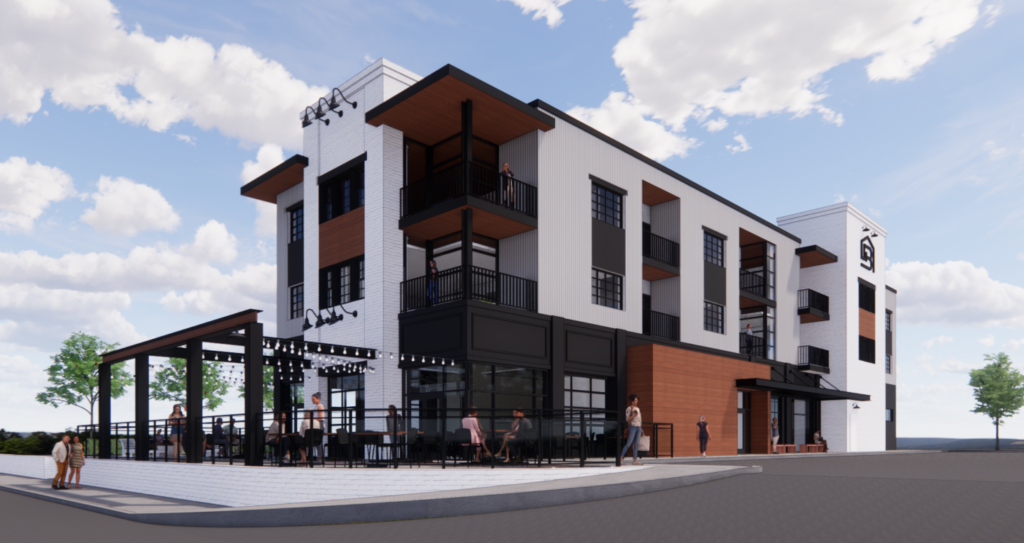 Burkentine already built 62 townhomes and 72 apartments for the overall development, dubbed Franklin Square.
"Our goal is to create meaningful spaces for people to live and this is the definition of that," Burkentine co-owner Mike Burkentine said, noting that members of the Burkentine family had worked at the American Insulator plant.
York-based Warehaus is the architect on the project (shown in a rendering).
What's brewing: Vortex is the third brewery in recent months to locate or expand in southern York County.
The trend: New rental apartments have seen heavy demand in Central Pennsylvania and around the U.S.
That is expected to continue as rising interest rates make it even more expensive to buy a home.